After a crazy busy day of walking around town, we knew the kids (and let's be honest, us too) needed the morning to relax.
In the afternoon, we decided to venture out and check out the city center, which is about a 15-20 minute walk.
On the way, we stopped by a playground on Avenue Jean Jaurès (the same tree lined street with the fountains) which the kids had seen and wanted to play at yesterday.
We also passed a boulangerie (bakery) and the smell of fresh baked baguettes and random pastries just drew me in.
Mmmm...everything looked so delicious, but alas we kept it together and just bought a baguette, because I couldn't resist the smell. The pastries will have to wait for another day :)
On our way to the city center, we walked through a few side streets, which have an old feel and charm.
The city center consists of a few streets that are pedestrian access only, with a lot of big and small shops, and a bunch of restaurants with outside seating. Quite a few of the stores were closed, either because it was after 5 or because it is August, and well the owners are on vacation. :)
It was starting to feel like time for an afternoon snack, so it was perfect when we saw a crepe stand next to a restaurant. It was no longer time for keeping it together, we're in France after all, so we can't say no to a crepe! We got one with coconut and Nutella and split it four ways.
We also stumbled upon a small pond displaying the famous crocodile chained to a column (which is meant to be the base of a palm tree).
One of the signs we had seen the other day had described the significance of the crocodile and the palm tree.
"The earliest occupants of Nimes were the Volques Arecomiques, a Celtic people who settled in the region around 400 BC. Among other deities they worshipped Nemoz, the god of the Spring source. Around 120 BC, the Languedoc was colonized by the Romans and Nimes became a colony under Roman rule. Towards 25 BC, the Romans built a monumental shrine around the spring. Alongside worship of the Celtic god of the spring, then known as Nemausus, worship of the deity of Augustus began. Nimes fashioned itself a bronze currency, which was later to become its emblem: a crocodile chained to a palm tree in memory of Augusts' conquest of Egypt."
In addition to it being on their old money, you can also see this emblem all around town, even on random things like the metal barriers designed to keep cars off the sidewalks.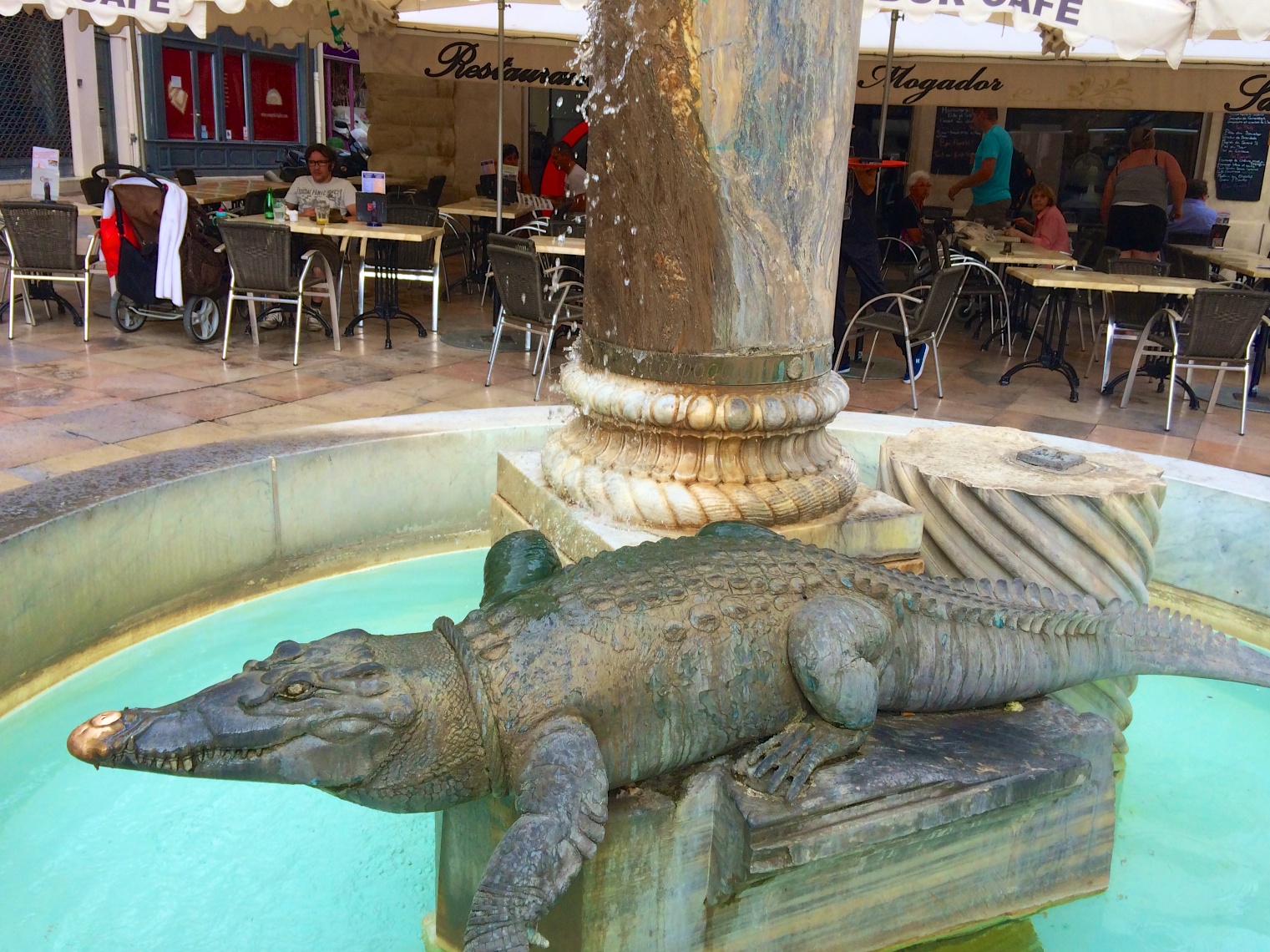 We walked back home before the little and big feet got too tired. As our dinner was cooking in the oven, we started to watch Toy Story 3.
We paused the movie about half way through to eat our dinner. Roasted chicken with our baguette, vegetables, and salad.
We continued the movie once dinner plates were put away. Poor Hannah was very upset when Lotso the Bear was being mean to "big baby" and poking her in her tummy.
Hannah: "nooooo....why is he being so mean to big babyyyyy???"
She was also upset when the toys were getting close to being melted in the fire. I generally get really sad at the very end of this movie when Andy drives away, so I'm glad I'm not alone in thinking this movie is sad :'(
Thankfully everything turns out great for "big baby" and she is very happy at the Sunnyside Day care center. So Hannah went to bed without being too traumatized (I hope!).