Before breakfast, the kids decided to build a few puzzles that we found here at the house. Hannah and Kian did most of the numbers puzzle by themselves, and then asked daddy for help with the ballet class.
They also attempted a 100 piece mermaid puzzle, but quickly abandoned it after seeing how hard it was to fit together the tiny puzzle pieces.
After breakfast, we decided to check out the zoo in Montpellier. It was about an hour drive, which was surprising because I had thought we could make it there in 30-40 mins. The long wait at the toll booth, where we had to pay a 3 euro toll after being on the highway for a whopping 10 minutes, was definitely a contributor.
We had packed a picnic lunch, and since we arrived a little after noon we ate our food before exploring the zoo.
The zoo is free for adults and children, which I have to say was quite impressive, given the size and the number of exotic animals.
There is an Amazon section (indoor) that requires tickets, but we decided to only go if we felt up for it after seeing all the free parts.
First up, we decided to check out the lions. However, much to our dismay after walking for a while in the hot sun, we saw not a single lion. Silly lions must have been napping somewhere!
We settled for the neat lion statues carved out of wood.
Thankfully, the lions were the only ones hiding. We were able to see a variety of animals, such as southern cassowary, Emu, red-necked wallaby, Eland antelope, and many more before arriving at the giraffes.
The kids were hot (it was a very hot day!) and hungry, so we decided to take a little break.
After the giraffes, we saw the zebra family and then saw a Rhino family!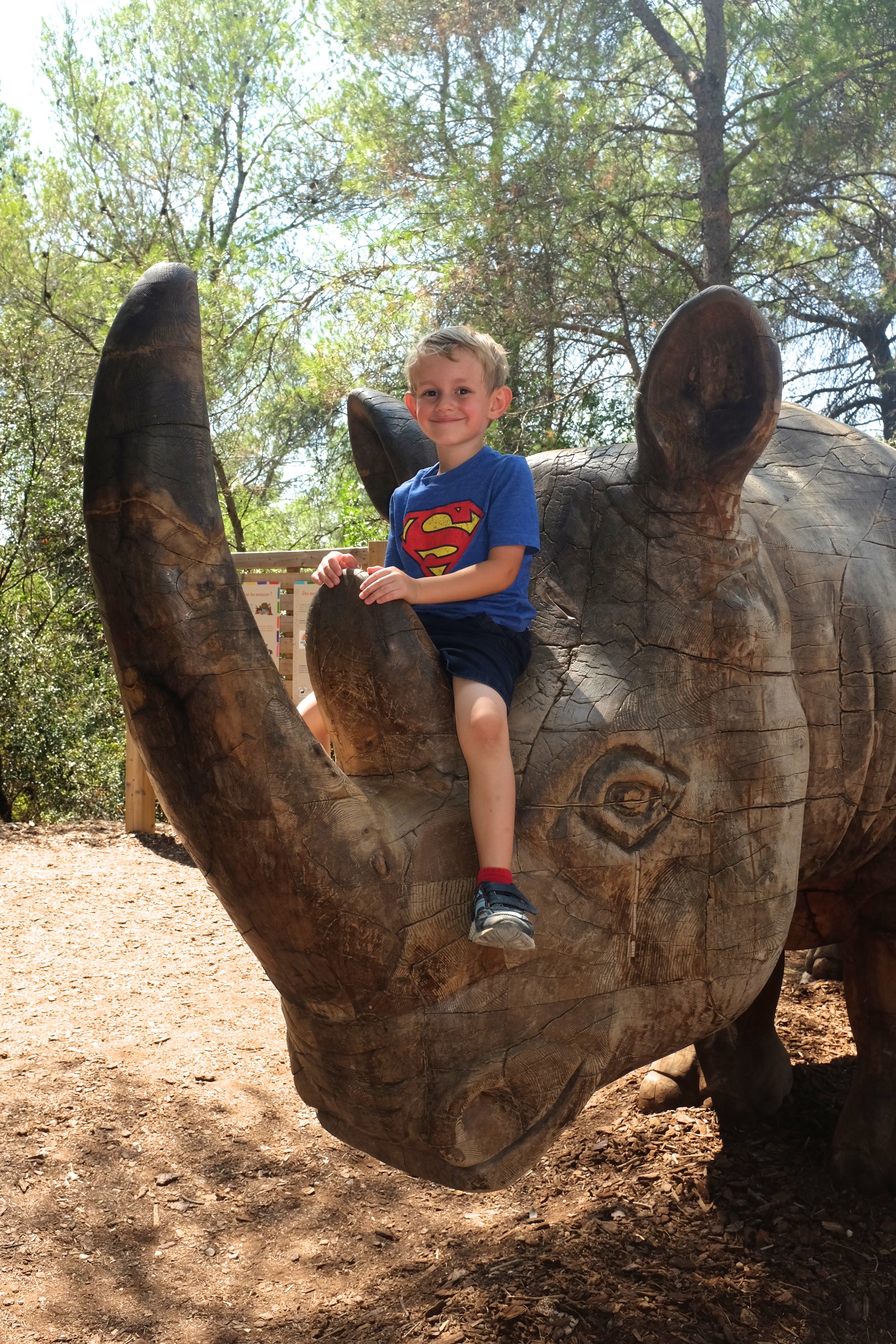 We continued our walk through the zoo, and saw many more animals before reaching the Leopard. At first, we thought he was also napping somewhere, but then we saw him! He came right up to us...Gulp! He was not behind a glass and really he was just separated from us by a ditch and very low fences.
I swear I saw him lick his chops as he stared at us...double gulp! Ok, I might be exaggerating, but he was too close for my comfort!
We also saw hyenas and red wolves before arriving at the monkeys' house, where a variety of monkeys were either napping or just resting... except for the two below, who were being very playful and silly and made the kids giggle.
By the time we reached the exit it was almost 6PM, much too late for the Amazon rainforest, and we were all ready to go home. The kids fell asleep shortly after arriving in the car. The combination of walking and the hot weather totally wore them out.
We decided to take the local roads back home, to see if avoiding the tolls was worth a longer drive. It wasn't. The local roads took more than twice as long, but it let the kids sleep longer at least.
Once home, we made dinner, which was followed by catching up with family in New Jersey and in North Carolina through Facetime. Thanks technology!