Haircut Time
After almost 2 months of traveling, both boys were looking quite shaggy, and in desperate need of a haircut. On Friday, we stopped by a hair salon we came across that was within walking distance from the house, and made an appointment (with the help of one of the nice customers translating a bit).
The hair salon, called AE Coiffure, is very clean with incredibly friendly and skilled staff. Both boys are very happy with their haircut. What impressed me the most was that the lady who cut their hair had actually prepared a few sentences in English to make sure she knows what style they would like. Amusingly, the prepared translation she had for hair clippers was "lawn mower"... I don't think we want to use a lawn more on the sides and back :-P Once again, a little bit of broken English, a little bit of broken French, and some body language was enough to communicate what all parties needed to know, and resulted in great haircuts.
Little Painters
After our pleasant experience at AE Coiffure, we headed back home and the kids enjoyed doing some artwork while sitting outside on the terrace.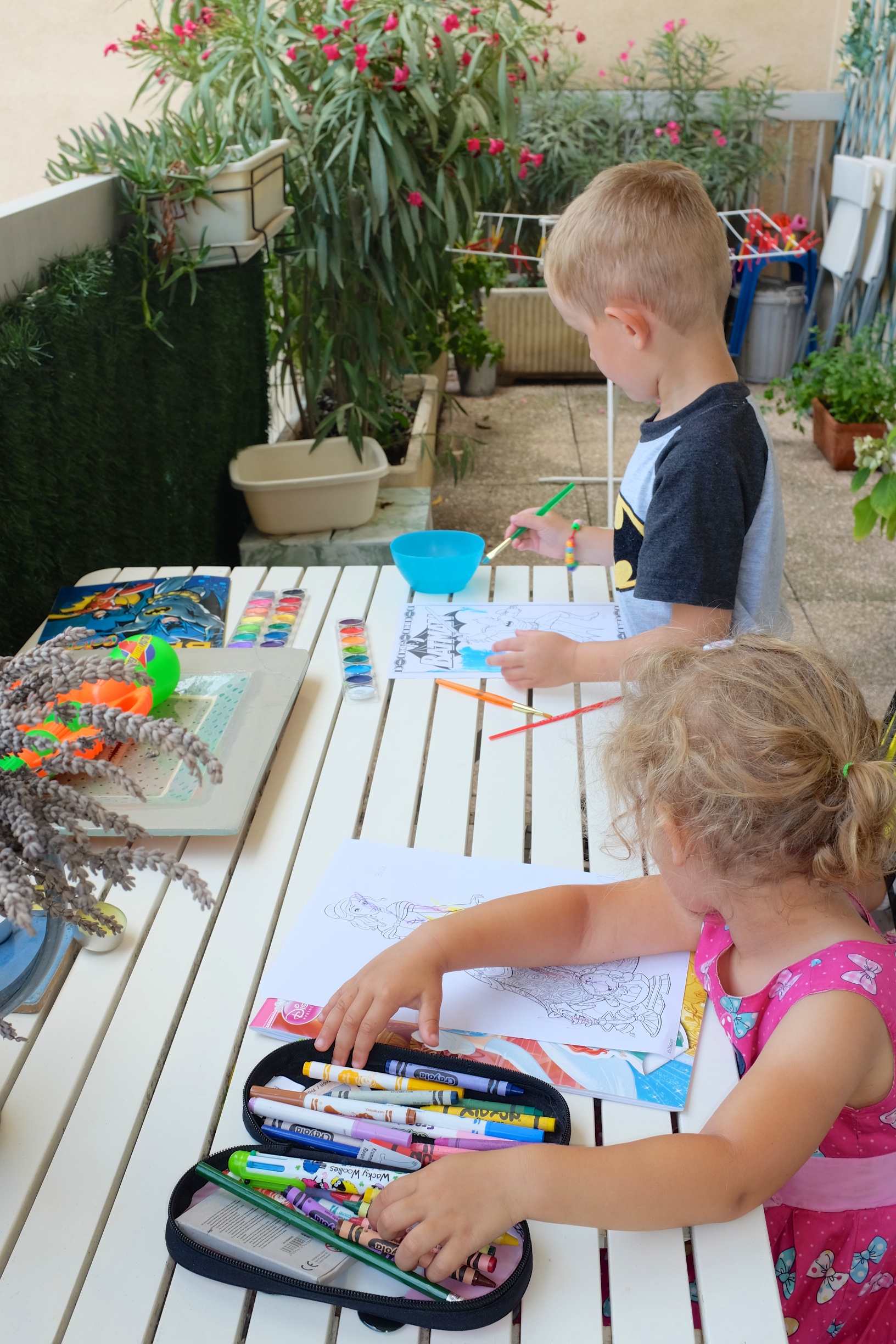 Dinner at La Piazzetta
For dinner, we headed out to a well reviewed pizza restaurant called "La Piazzetta". The great thing about where we are staying is that we can pretty much walk to anywhere in the city center; however I prefer if we don't walk in the streets too close to dusk, as unfortunately there are quite a few homeless and drunkards that we have seen on the streets here in Nimes. This is not to say that we don't feel safe here while walking around, but more that we rather not put ourselves in unnecessary situations. Thankfully the kids typically go to bed right around sunset, so it hasn't really been much of an issue.
How our kids keep themselves amused
The walk to the pizza restaurants took us about 20 minutes, and although we had to wait for about 30 minutes for the restaurant to open (most restaurants open around 7PM here), the kids had no problem entertaining themselves.
Hannah had fun with the pigeons.
Kian had a blast taking a billion "selfies" with all sorts of expressions.
Once we sat down at a table outside, we knew we had picked a good restaurant, as the place packed up very quickly. The pizzas were delicious, and we give it our seal of approval. If you are in Nimes and looking for a sit down pizza place, you should check out La Piazzetta.
Sunset in Nimes
On our walk back home, we treated the kids to a ride on a fairly large, two floor carousel that we had seen near the Arenes.
As we continued the walk, it was right at sunset, and we were able to witness a few incredible sights.
Esplanade Charles de Gaulle
The Esplanade, which is right outside the Arenes, boasts La Fontaine Pradier. The standing female figure, Nimes the beautiful, in the center may look like she is wearing a crown, but that is actually Maison Carrée on her head. She is surrounded by four watercourses: two nymphs, the Nemausa spring and Fontaine d'Eure, as well as two heavily muscled giants (the Rhône and the Vidourle.
Sunset through the arches of The Arenes
We arrived home just in time to avoid the dark. Bonne Nuit Nimes.