We all woke up very well rested and happy knowing that we did not have a far drive ahead. We left the Kerry Ocean Lodge after breakfast, once again without having a place booked for the night. We figured we would take a risk and just go to Killarney and find a place later in the afternoon.
We started off by driving towards the Dingle Peninsula, since we wanted to check out Inch Beach.
On our way, in the town of Killorglin we came across a statue of a goat wearing a crown. Otherwise known as King Puck. According to a sign near the statue, "For hundreds of years, a male mountain goat has been enthroned as King of Puck Fair in Killorglin town. The Puck Goat reigns over the fair held on August 10th, 11th, and 12th of each year. King Puck is a symbol of a vast traditions whose origins are lost in the mists of time."
We made it to Inch Beach not too long after. The beach is really very beautiful and definitely deserves its blue flag status. We all had a great time running around and playing in the sand.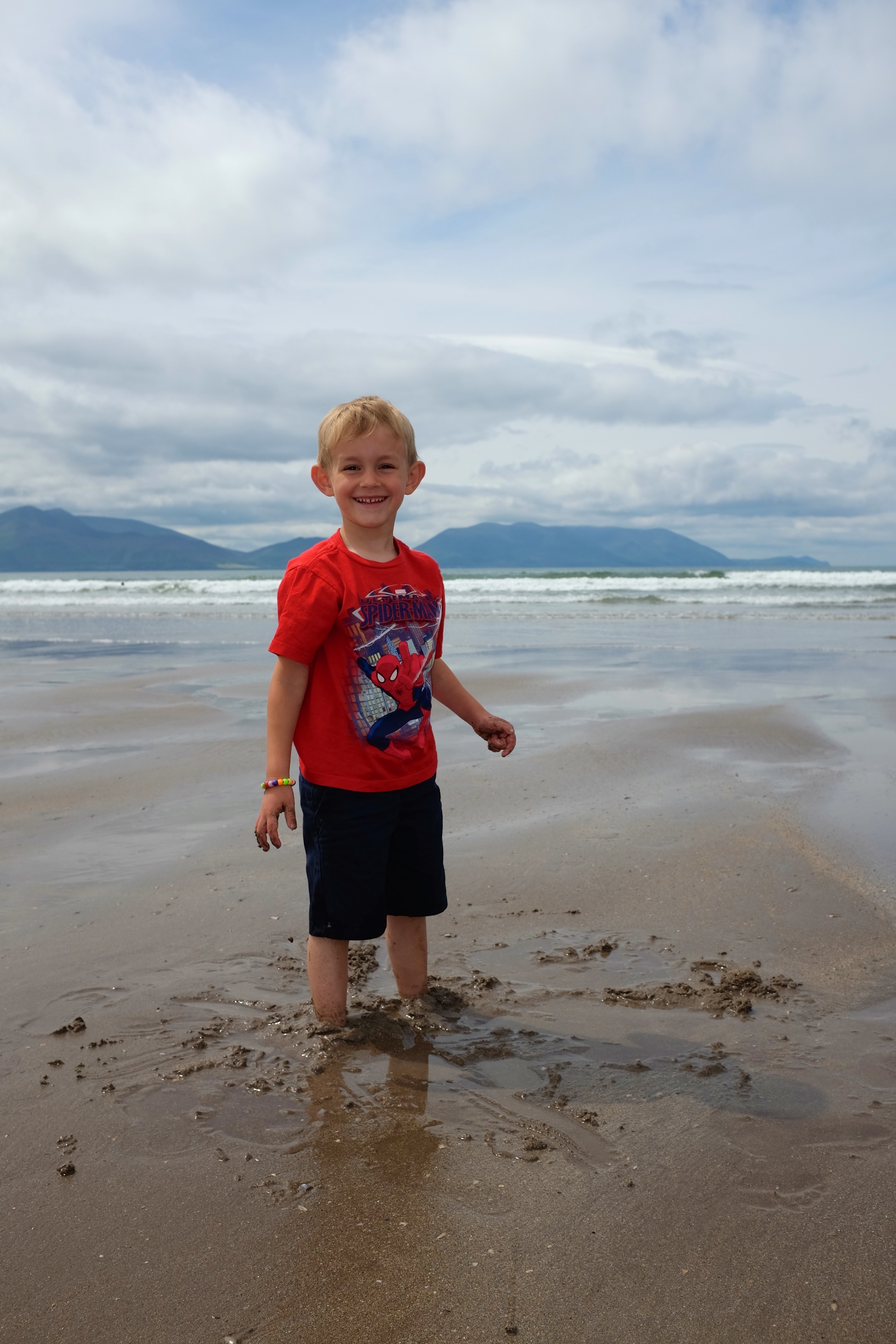 The kids and I also decided to do a little bit of yoga. I even attempted a handstand transitioned into a bridge/wheel. I did think about it for a while and wondered whether or not I could pull it off, but then I decided I wouldn't know unless I tried.
Seeing my warm up exercises, Kian wanted to try a handstand too, and with a bit of help from me he succeeded and thought it was the funniest thing to see everything upside down :)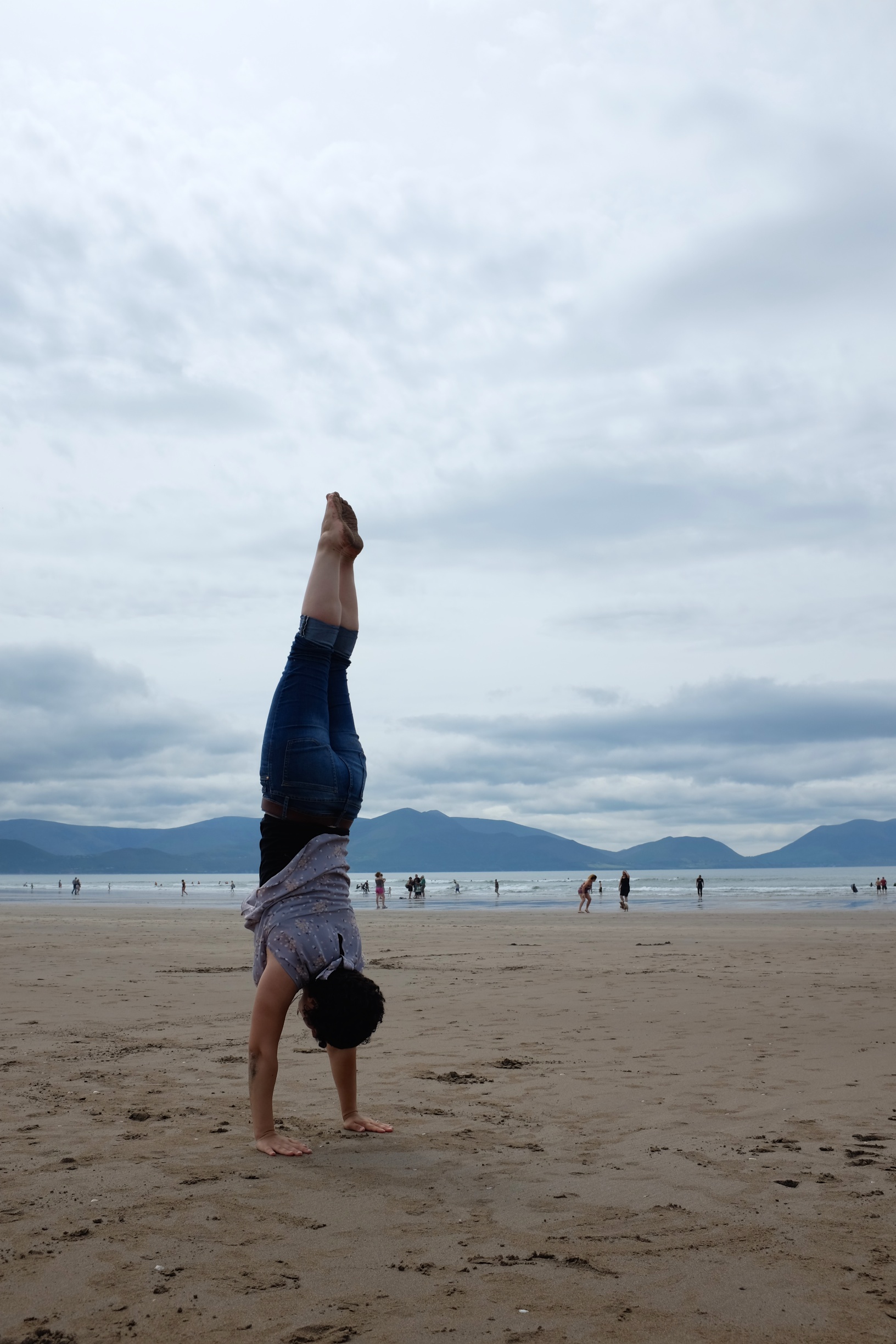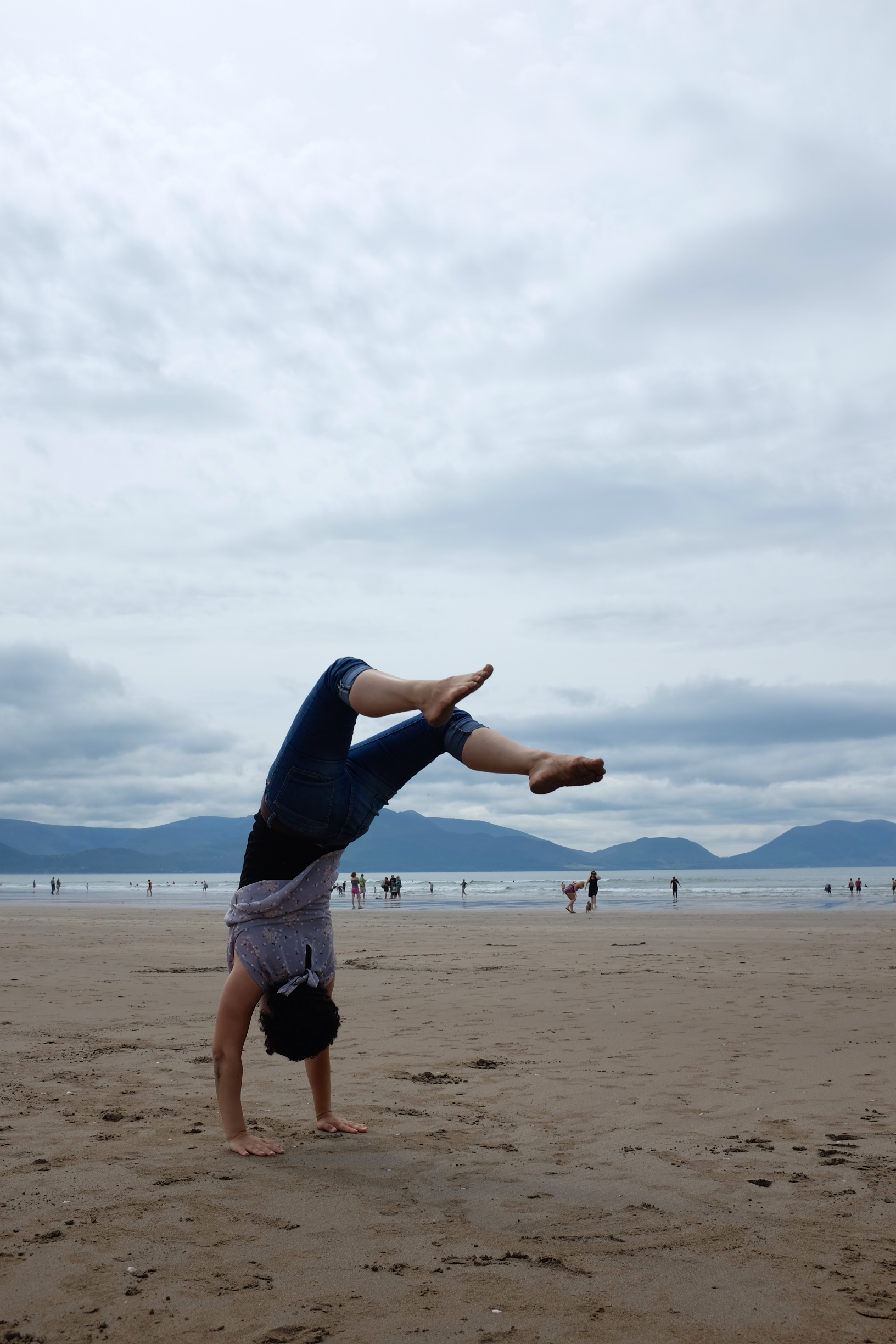 After lots and lots of playing, in the early afternoon we decided to just eat at Sammy's, a restaurant that is right on the beach before heading to Killarney.
After lunch, we got in the car and headed towards Killarney. The kids fell asleep in the car, which was perfect because they were quite tired from playing on the beach. The drive to Killarney was only about an hour or so, and once in town we realized there were some festivities going on. It was the last day of the horse races in Killarney, which is also known as "Ladies' Day". On Ladies' Day, the women who want to take part in the competition dress up, and the best dressed lady wins. They also have other categories like best hat, etc.
We saw lots of fancy dresses and very, very high heeled shoes.
There was also a bike race in town the week before, so there were no lack of decorations on the streets as we drove through in search of a bed and breakfast that could accommodate a family of 4 on such a busy night!
Thankfully, after only asking a few places, we found a lovely bed and breakfast called Kingfisher Lodge within walking distance to the center of town, for a very good price. It definitely didn't hurt to be spontaneous with this one.
After resting for a little bit, we put on our shoes and got out to see the city. We were given a piece of advice by the B&B owner to be inside a restaurant before 6:30 PM since everyone from the races would likely be arriving around 7 to eat.
We found a restaurant called "The Flesk" and luckily they were able to seat us right away. The restaurant was packed, but everyone around us was so sweet.
The kids were busy with their coloring pages as we ordered some delicious food.
We had conversations with a couple from Pennsylvania who were in Ireland with a tour group. Then we talked to an Irish couple who were really sweet to the kids. We also chatted with a couple who were sitting behind us who had travelled to Ireland from Sydney, Australia.
It felt like we were out to dinner with a few acquaintances :)
Then our dinner arrived and it was perfectly delicious.
As we left the restaurant, we could hear music not too far away and then we saw that everyone had gathered on the street and there was some sort of dance competition going on. The music was so upbeat and fun, and even if you weren't in the dancing circle you couldn't help but dance a little bit to the beat.
On our way back to the Bed and Breakfast we stopped at Murphy's, an ice cream shop with lots of interesting ice cream flavors. I got the Irish Oats which was yumtastic!
With our bellies full and our legs exhausted we went back to the B&B for a much needed night of rest. So glad we arrived into town on such a festive day.